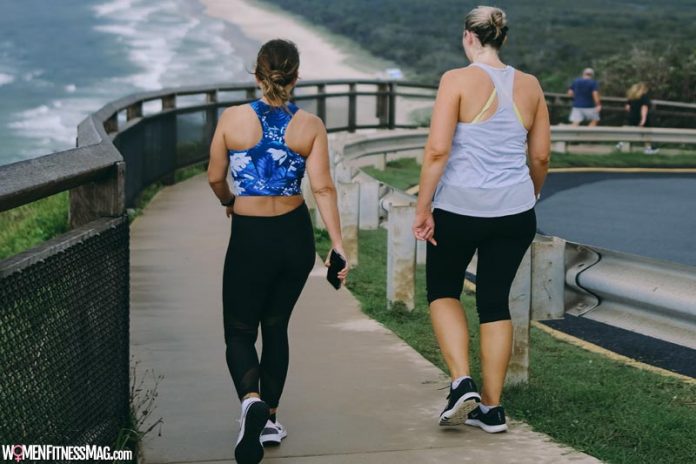 How Walking Tones Your Body – A Complete Guide For Effective Walking! Sadly, we all have been super lazy during the gloomy quarantine, slouched on the couch and binged uncountable episodes of shows, and stuffing our mouths with junk food we could find in our pantry.
What's even worse? We promised ourselves that we'd spend hours and hours at the gym, working out, to let all this unwanted fat sweat out of our body when everything would get normal in a month or two. Yes, we all are on the same page!
But, guess what? We don't feel like going to the crowded gyms because some of us are real paranoids. Well, that's normal! But what should be done now? You can't let your body feel blah while you eat away. Wait, wait! We can go for walks every day! Walking can definitely help you tone your muscles and lose weight.
Walking is an excellent workout routine, and it saves you some money for a rainy day that you'd use to buy a gym membership. Gym fees can be a lot to bear sometimes, especially when you're penny-pinching. But you don't have to compromise on your fitness routine; you could simply opt for a walk.
It's not necessary that you have to step out of the house for a walk. You can definitely do it indoors, too; if you're someone who's planning to invest in a treadmill, lookout for the best treadmill Australia from the best of brands.
Treadmills are versatile for personal use as they come with ample advanced options. You can get a larger running area, better inclination, high-tech monitor functions, and much more with the best treadmills. Here are a few tips and tricks to get the maximum out of your walking routine.
Walking, primarily, doesn't require any equipment apart from walking shoes. The best things in life are free, almost! It is recommended that you invest in a good pair of walking shoes that support your feet when you are on the go. Walking shoes have a soft sole and stiff heels. These are designed for maximum comfort, light in weight, and cushion to aid you during your routines.
Before heading out, think of the songs you want to hear as you go on the path. Having a great soundtrack to listen to will keep you motivated and focused. A 2020 Frontiers in Psychology study showed that high tempo songs between 170 to 190 BPM have proven to enhance workout performance.
Like Fitbit or Whoop, a fitness tracking gadget could be an excellent addition for you to track your recovery, steps, heart rate, and much more. It is a modern approach to track overall health and fitness.
While walking, make sure you vary your pace. Studies have shown that you tend to burn 20% more calories by changing your speed than maintaining a steady pace. Also, try to accelerate and decelerate your brisk walk.
As you alter and vary your pace, switching the routes or surface is essential to burn more belly fat. Walking on grass or gravel burns more calories than walking on a track. Plan out routes beforehand that vary in length, grade, and terrain.
To make the most out of a walking routine, you should try vigorous arm pumping. This not only speeds up your pace but also provides an excellent upper body workout. An arm swimming walking style will burn up to 5-10% more calories.
Try to incorporate a habit of walking and not just restricting it to workout routines. Look for opportunities when you can leave the car at home and walk to the nearby store or train station, take the stairs instead of elevators and escalators, or opt to walk you are going to visit your friends and family. This is better for you and better for the planet, as well.
Related Videos about How Walking Tones Your Body – A Complete Guide For Effective Walking!
"Walking" A Great Exercise for Weight Loss & Fitness, If You Know These Secrets!
WALKING WORKOUT – tone while you walk and get in shape.
What Will Happen to Your Body If You Walk Every Day
21 Day Walking Plan That Will Help You Lose Weight
Research-PROVEN 30-Minute Walk Benefits
How Walking Tones Your Body – A Complete Guide For Effective Walking!
walking effects on body shape, benefits of walking 45 minutes a day, 4-week walking plan to tone your body, what happens to your body by walking daily?, does walking tone your inner thighs, what does walking tone on your body, does walking tone your arms, walking tone legs before and after,